LRO Owner~Editor~Long Range Hunting Specilist
Joined

Apr 17, 2013
Messages

12,769
Reaction score

6,922
Points

113
Phase 1
Page 1
Jeff entering first part of the data then switching to Rhian when noted.
To
start this off we need to say we used the best equipment we had available to us. We compared Ketsrels using two for each set of field conditions. We used a Leica 1600 CRF as well as my Vectronix PLRF10 for distances until we were past the distances the Leica would record. They were in agreement all the way. Distance readings were taken off the truck last stake pocket each time and the truck was moved even 1' if needed where distances would teeter between two. Final distances were confirmed with 3 exact consecutive readings. Shooting was done in the truck bed prone off a bipod and bags off a piece of plywood with a 3/4 " board to rest the legs on for proper bipod preload. Paralax was finely adjusted until eliminated for each shooting location. Bubble level was used for each shot. Dialed turret corrections were dialed and called out for verification and rechecked as the scope was dialed back down to zeros after each series of shots.
But first lets talk about the rifle used. My new Defensive Edge LRKM in .338 Terminator +P. This is one of the most accurate rifles I have ever owned. I have worked up a good solid load and have chrono tested it numerous times over two different Magneto speeds and an Oehler 35. I have also tested Muzzle Velocity at different ambient temps allowing the rifle and ammo to acclimate to these temps between shots. My data is sound. The averaging of this data over a wide set of tests brings us to the velocity of 3198 fps. This is what was used in all apps for this test. And the only MV used. Bullet used was the 300 Berger OTM.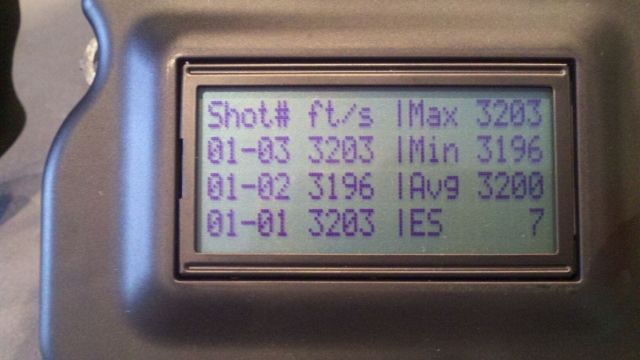 Next we understand the need to mechanically test the scope tracking of the 5~25x56 Nightforce ATACR. Otherwise any app could give a good correction but if the scope is not in true .25 moa calibration it could suggest the app is incorrect. When in reality it is the scope that is the culprit. To do this we used Rhian's scope calibration board. The board was placed at exactly 100 yards from the scope turrets. The 100 yards was ranged with a laser and then verified with a surveyors tape. Testing was done every 20 moa. The 20 moa was multiplied by 1.047" to get the corrected inches per 100 yards the reticle should travel. On the board is a steel tape that can be read easily to the .25". Each black line is exactly 1". This works very well and I feel was very accurate. Then the turret was returned to zero as a check to insure the crosshairs also returned to our zero mark to make sure nothing had moved.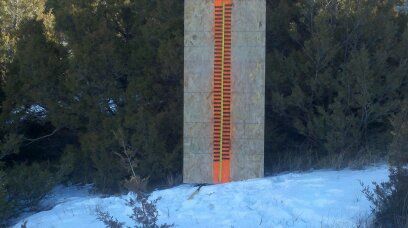 The rifle was held in position by a high quality gun vice and also supported with sand bags. Frequent return to zero's were preformed to insure nothing was moving. The tracking was confirmed through a full 120 moa of scope travel. In the end it was determined that the ATACR tracked as good as one could want. It was within .008 of true .25 moa. So the turret correction factor of 1.008 or an equivalent was entered into all programs.
Next we wanted to reconfirm the rifles 200 yard zero. 3 shots were fired at 200 yards and it proved the rifle was zeroed .25" low of a perfect zero. Since one click of .25 moa is 1/2" at 200 yards the scope zero was left where it was and under the zero data in all programs 200 yards was entered and -.25" was entered for zero Height.
Scope height was also rechecked and confirmed to be 2.7" from center of scope tube to center of rifle bore. Measurements were taken at the center of scope turret.
Rhian built us a very nice target to use for this test. When I seen it I said it was way to nice to shoot. It was constructed of two 4x8 sheets of plywood framed with 2x4's and hinged in the center. Folded open it gave a 8'x8' bullet catcher with a steel gong or taped off aim point in the center. It was placed on the face of our chosen berm for a back stop and secured with tie straps and four steel stakes, while the face was leveled plumb.